02.05.2016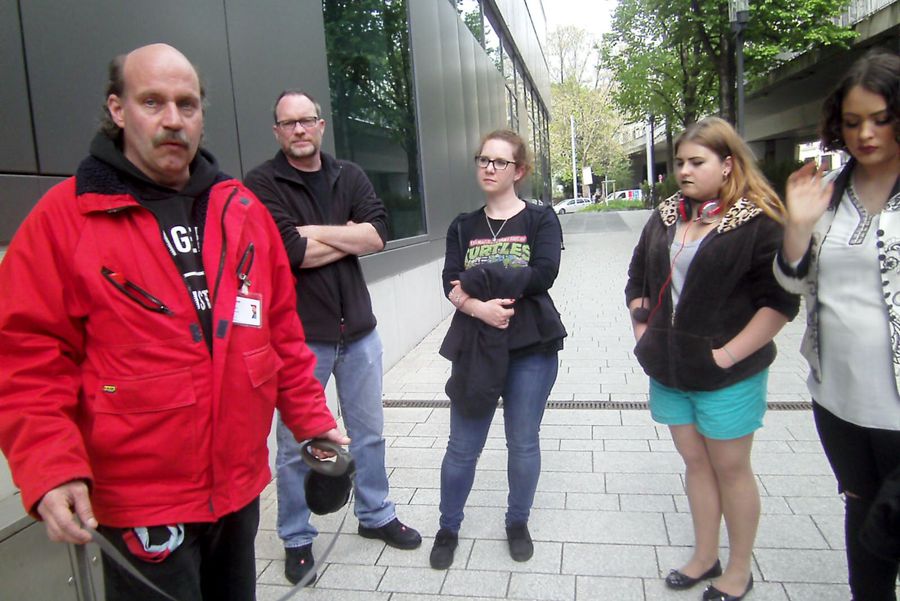 On Friday 22nd of April a guided city tour with "Trott-war" was conducted. The word "Trott-war" is inspired by the French word "trottoir" which means sideway. "Trott-war" is a monthly newspaper of homeless people or people without proper accommodation, usually sold in the tram and underground stations. By selling the newspapers homeless people can generate own income.
Participants of the project "Our life.our voice", metal apprentices, two participants from other activity measure and IB staff took part in the guided city tour. Our group was guided by Mr. Schuler. The tour started at Charlottenplatz and ended at Marienplatz. Mr. Schuler lived five years on the streets in Stuttgart and had severe alcohol problems. He decided to get professional counselling and to do a therapy.
By the help of central counselling services of the City of Stuttgart he got an accommodation place and a job at "Trott-war". Besides of selling newspapers he does guided city tours. Mr. Schuler showed and explained the places where drug addicts meet. A well-known place for homeless people is Paulinenbrücke. Nearby is a shelter of the Catholic Church. The catholic sister provides opportunities to wash, warm up, have a coffee and gives further advice. In Stuttgart live also many young homeless people. They are mostly dropped out from school and/or were kicked out from their parents. There are special shelters for them. To get homeless is easier than one can image even in a rich city like Stuttgart, e.g. due to a family crisis or when someone loses his job.
The costs for renting a flat are very high, so it is really difficult to find a way back to "normal life". At the end, the group went to "Trott-war" office to get the principles of the newspaper explained. From the price of a newspaper, the seller gets 50 %, and if he can sell more than 100 newspapers he didn't need any more financial support. Only few sellers are directly employed by "Trott-war". "Trott-war" receives, aside from selling the newspapers, donations and it runs a deposit project as well.
There is a deposit on plastic bottles in Germany, so by collecting empty bottles and bringing them back to shops, money can be collected. At highly frequented places – e.g. universities, airport – collecting boxes are used to collect the used deposit bottles. So the people involved in this project can reduce the dependency on state financial support.