Intellectual Outputs
Presented in May 2017 during the project's Final Conference in Brussels, with a large audience composed of youth and social workers, young people, public and private stakeholders in the field of youth and representatives from the EU institutions, these Intellectual Outputs are based on the "Our Life. Our Voice" young participants' own investigation into poverty.
"Our Life. Our Voice" - An Investigation into Youth Poverty
"Ending Poverty and Social exclusion" - Young People's Key Messages
"How to engage young disadvantaged people" - Toolkit
Additional Productions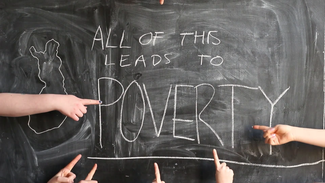 During their investigations into youth poverty, the "Our Life. Our Voice" young participants and the project partners who supported them produced various, additional outputs to present their work.
Below you can find some of them, as well as videos and promotional material they prepared to disseminate the project's results.
Final Conference, Brussels, 4 May 2017
Video - The Children's Society Commission on Poverty (UK)
Video - Fundatia Ruhama's presentation of "Our Voice. Our Life" (RO)
Video - After Eight's methods and results in "Our Life. Our Voice" (FI)
Magazine - Broke(n) by After Eight's group (FI)